To gain the ultimate efficiency using hydronic heating it is recommended to use under floor heating.
Unfortunately this type of installation is only viable when the house is in a building stage.
Because of the restricted access to the piping, control of the temperature is channelled through a manifold usually placed at a central location of the property- typically in the laundry.
The objective of under-floor hydronic heating is to maintain a level of comfort consistently throughout winter. It is not designed as a quick fix heat rush that a gas ducted heater can provide as sometimes it can take up to 48 hours to completely heat up, the upside to this is a great reduction in running costs, more stable temperatures, cleaner operation (not blowing air around the house) and a less intrusive design outcome – no supply grilles and return grille.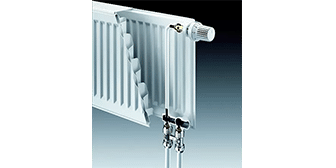 Hydronic panel heating is the alternative to underfloor heating if you already have a constructed house. The great feature with panel heating is the extensive designs, shapes and colours available making them very flexible to use with every room.
Utilising the same principles as underfloor heating, instead of pumping the hot water through conduit under the floor, it pumps into panels from a central manifold.
The only real difference is that each panel needs to be sized correctly in order to efficiently heat each room, this is where the flexibility in size and shape assist in getting the right outcome you are looking for.
Call Alpha to Update Your System